Vintage / Retro Style Lingerie
For an hour-glass pinup figure – Go Vintage!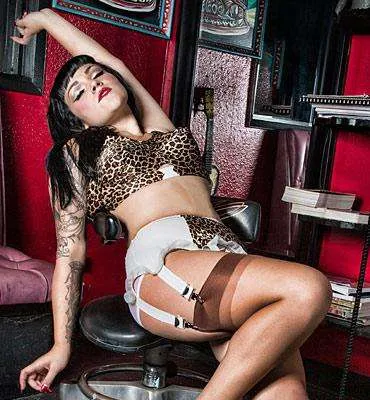 There's no doubt about it, vintage and retro style lingerie has made a real comeback and is featuring widely in magazines and on catwalks, not to mention the ladies (and men) who wear these gorgeous vintage styles on a day to day basis.  Even women who previously wore the skimpy 4 strap 'hipster' style suspender belts are making the switch as the older styles are far more comfortable to wear, hold your stockings in place more securely and all in all look so much more glamorous.
The 1950's were undoubtedly the glamour years with women imitating the slender elegant styles of movie stars, pin-up girls and burlesque dancers of the time – much as we do with celebrities nowadays. The typical hour glass figure of big breasts, small waists and big hips, coupled with shapely legs was achieved with lingerie such as longline or bullet bras, girdles, high waist knickers, panty girdles and seamed stockings.
Over this figure shaping lingerie was worn pencil skirts / dresses, also known as 'wiggle dresses' or full cicle skirts with layered petticoats which accentuated a slim waist or tight sweaters that accentuated the conical boobs which were worn with capri pants, pencil skirts and circle skirts.
During the 50's, women were generally smaller than they are today and lingerie models and film stars were glamorous and shapely – take Marilyn Monroe whose stunning 35-22-35 figure was seen by modelling agencies as 'plump' at the time – even though the average waist was about 25″, whereas today the average woman has a waist size of 34 inches, almost 10″ bigger than 60 years ago.
Adverts of the time were advising women to gain weight with products such as ironised yeast with slogans such as'Skinny Girls Don't have Oomph! Skinny Girls are not Glamour Girls', in stark contrast to today's commercials promoting products and diets to lose weight. Despite the quite dramatic increase in size averages over the years, we can still achieve the Monroe shape with the right underwear.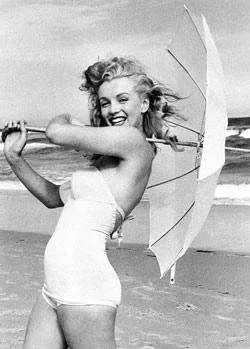 "Your clothes should be tight enough to show you're a woman but loose enough to show you're a lady." – Marilyn.
The great thing about retro style lingerie, as opposed to wearing actual vintage, is that today's fabrics are a lot more comfortable to wear than those the originals were made of. The majority of patterns are based on authentic styles but with the use of polyamide, nylon and Lycra / Elastane coupled with the use of more flexible boning in waspies, waist cinchers and corsets, the finished garment is not as 'rigid' as the cotton / rayon of the past.
Our advice if you haven't worn this style before is to start with something simple and not too restrictive, maybe a 6 or 8 strap suspender belt which sits firmly on the waist, smooths over the hips and has plenty of room for adjustment, or a pair of supportive 'big knickers' which will gently smooth and firm the stomach, hips and bottom. If you jump into wearing a tight and restrictive vintage girdle when you are not used it it, it may put you off wearing these styles forever which would be a real shame as modern lingerie just doesn't have the same effect. If you want an hour glass pinup figure – go vintage!