Vintage Girdles – from the 1920's-1960's

Girdles have been around for 100's of years although were more commonly called corsets until earlier this century. Originally they were fairly heavy and difficult to get into and a helping hand was needed to tighten the lacing at the back, but all this changed – fast forward to the 1920's and the corset had been shortened, was made in lighter fabrics and much easier for a girl to wiggle into.
Putting on a girdle, which was the equivalent to a daily workout in the earlier part of the century, was now so much easier with zips, poppers and hook & eye fastenings.  Designed to create a smooth line under the flapper dresses in fashion at the time by slimming the hips and thighs and with suspender straps to connect stockings, they were much more like the girdles we know today.
From this decade right through to the end of the 60's, a girdle was considered to be an essential item of clothing, diminishing waist sizes, smoothing out hips, and eliminating 'midriff bulge'.
Many women who had been bought up to wear a girdle or corset held firm beliefs that this type of foundation wear was essential for girls to achieve and maintain a good figure, give them ladylike qualities, good posture and assure graceful movement, so their daughters were taken for a fitting as soon as they developed curves.
Vintage girdles from the 1940's/1950's were generally made of a combination of rayon, cotton and rubber and were worn under every outfit, whether it be full circle, Dirndl or pencil dresses, cropped capri trousers, cigarette pants or pedal pushers.
Women in this era loved their girdles and wore them all day everyday, whether they were doing housework, shopping, on nights out or just watching TV.  My own mum wore them daily under her pretty floral dresses with their lovely flowing skirts until the early 60's  (it may well have been longer but as I got older access to her boudoir was limited).
1940's and 50's women were rarely born with the pin-up figure depicted – not only from stars of the silver screen & TV, but in 'average' daily life of the times –  the coveted hour-glass shape was made – with bullet bras and girdles.
We all have areas we are not happy with or 'problem areas' especially as we age or when we have had children, and a good well-fitting girdle has the power to improve your silhouette by smoothing, lifting and flattening in all the right places, helping disguise unwanted 'lumps and bumps'.
In one of the Berlie ads their slogan was 'the little bulge that had been my tummy was gone' and magically they did make a person's waist and stomach look smaller, flatter and firmer.  It feels pretty good to be able to look in the mirror with your dress pulled up and admire the flat stomach where your little 'pouch' used to be. 
How to Wear a Vintage Girdle
The girdle is once again popular as women try to attain a great figure with or without diet and/or exercise.   Many use modern shape wear, but for a true hour-glass silhouette you just can't beat a vintage girdle.
To achieve the look and the benefits that wearing a girdle gives you, it important to get the sizing right.   Measure your waist and hips then purchase a girdle that is 1-2″ smaller than your actual size as it will not achieve the desired effect if it fits exactly,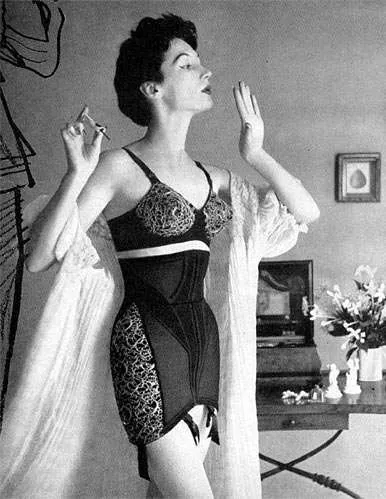 it should be tight enough to support your back and firm across the hips and belly.    Once you are completely used to the feeling of confinement, you can go to a smaller size if you wish.
The easiest way to put on a vintage girdle is to lay flat on your back on a bed (in the same way we used to pull on our skin tight Levi's), wiggle it up your legs over your hips, do up the fastenings – hooks & eyes/zip or both then roll up into standing position.   There are two reasons why I recommend this as the simplest method although just find what is easier for you:
It can be hard to keep your balance whilst stepping in and hoisting it upwards with wiggly movements
When lying down the stomach goes flatter and its easier to fasten.
In time you get used to wearing one daily (which may take a few days or even a week or two), and begin to really feel the positives of it.
The Benefits of a Girdle
When you look good you feel good, and with a good fitting girdle offering control and support for both the stomach and back you can look instantly sleeker and more shapely – not to mention that it will improve posture and encourage you to 'stand taller'. Standing or sitting up straight also has health benefits as your lungs are not 'compressed' as they become with a 'slouching' posture and this type of shapewear has proved to be beneficial for overall health if used correctly.  A vintage style girdle is beautifully flattering and will show off your assets or hide your 'liabilities' accordingly.
There is something addictive about a really firm girdle and many women who have worn them for years become girdle dependent, enjoying the confinement, the tightness, support and control that they offer.
Retro lingerie is popular again as more and more people are feeling the benefits of it because it not only feels good – it looks great too!
What you put on first makes all the difference to how your clothing hangs, and this magical device that will help you appear to shed pounds without  any effort, not to mention a quick confidence boost.  Any woman of any size can benefit from wearing a girdle in any of its forms – high waisted, full body or a simple panty-girdle. You may be a size 8 but not perfectly toned, you may not naturally possess a pin-up figure, or you may have a few unwanted lumps and bumps – wearing a girdle can change all that in a second!
Its not so much about looking smaller, but enhancing the curves you already have and a good girdle will give you uplift, support, flatten out tummy bulges and help with sagging of the abdominal muscles.
Body image was totally different back then to how it is now, in the 1950's it was considered that the most desirable women had curvy 'womanly' shapes and skinny women were considered unattractive, in fact many adverts of the times were for products encouraging 'skinny' women to gain weight.  (see our article 'Shape up, Back to the Fifties' )
Wearing a vintage girdle is not torture as it may have been in the past; it can be beautiful, sexy and with today's modern fabrics, comfortable to wear.  It is a fabulous blending of function and fashion – designed to give you a true 'hour-glass' shape like the stunning figure of Marilyn Monroe, who was not skinny by any means.
Vintage Girdles for Men
Men have worn girdles since Victorian times, although for much of the past century it has not been seen as 'socially acceptable' so men who wear girdles had been 'closeted'.  Now times have changed and many males admit to wearing them for control, comfort or just because they like the feel of them.  Judging by the calls we get, vintage style lingerie  seems to be very popular with cross-dressers as they 'hug' the waist to thigh area tightly so can keep a pair of hip pads and / or padded briefs worn to enhance feminine shape firmly in place.
When buying panty or full length girdles for men,  to get the correct size measure the waist and deduct 1-2″ for a good firm fit.  The waistband should be tight enough not to allow slip-down and the fabric itself should not have too much stretch so there is no bagginess on the hips.  For men wearing padding the fabric is not so important as their hips will be more 'womanly'.
Crossdressing in vintage lingerie is the perfect solution as styles are usually made to sit high on the waist and deep over the hips offering excellent support for stockings.
Posture and grace are ageless and your girdle can be an absolute godsend when trying to achieve this.  Modern shapewear is fine – it does the job, but it is nowhere near as glamorous as the good old vintage girdle.