Burlesque or Pin-up – how are they different?
To the untrained eye, burlesque and pin-up can often be mistaken for the same thing. But the reality is they are two very different styles.
Both offer a display of glamorous-looking women, kitted out in sexy clothing, looking and feeling fabulous. They both showcase high-quality imagery, beautifully presented hair and make-up, and often in interesting and unique settings.
There are certainly similarities between the two, but the fact remains that they are two completely different styles. So what exactly is the difference between burlesque and pin-up styles?
The Image and Pose
Burlesque or better known to our transatlantic cousins as boudoir is a style that originated in 17th century Italy. It is a bold and modern style that tends to illustrate an image of power, passion, and sensuality. It represents everything that is female empowerment. Sexuality, gender equality, and body acceptance. A good burlesque shoot will be explicit but tastefully done, with caution not to enter the territories of erotica. Poses may include laying on her front with an arched back, sat with one leg raised high in the air, or stood looking back over her shoulder.
Pin-up, on the other hand originated in America in the late 1800s with a drawing of 'The Gibson Girl' by Charles Gibson, although pinups are more commonly thought of as originating from the 1940's / 1950's era . The concept focuses on vintage styles that tend to be cutesy and flirty with facial expressions to match. Often you will see pin-up models showcasing their beauty, energy, and personality in a playful-like setting.
A good pin-up shoot will be sexually suggestive but never explicit and may include poses such as one hand on the hip, blowing a kiss, or fixing the hair. The concept of pin-up means women that are meant to be pinned up to the wall and admired.
The Style and Setting
Burlesque is more focused on the subject. You will often see models dressed in eccentric and quirky outfits such as large feather hairpieces. You will often see burlesque models carrying a prop such as a whip, a cane, or some other similar object that portrays the image of power and lust. Shoots are often quite dark with bedrooms, theatres, and behind-the-scenes type shoots being quite common.
Pin-up is all about telling the story. Picture a 1950's housewife sweeping the kitchen floors, or laying on the sofa having a natter on an old-fashioned corded telephone. Hair, makeup, outfits, and settings fit the vibrant, fun-loving retro vibe and give its viewers an insight into women's lives during that era.
Burlesque and Pin-up Clothing Differences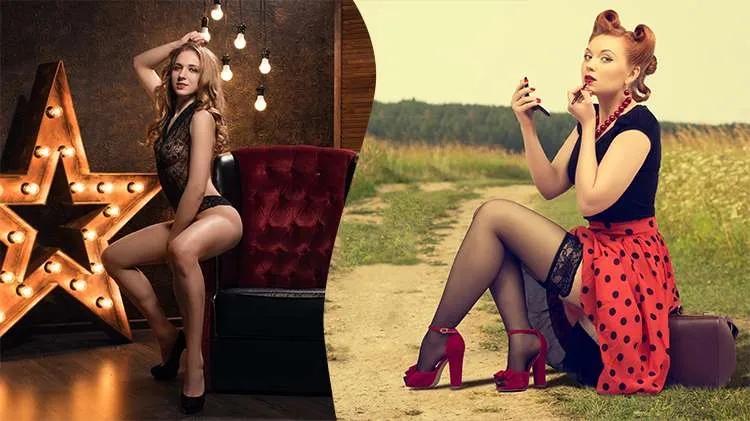 Burlesque clothing can be very lavish and will generally include dark coloured sexy lingerie, tassels, feathers, long gloves, bras and skimpy bottoms, corsets and often elaborate headwear. Semi-nudity is quite common although they will cover intimate body parts with a bed sheet or something similar. The point is to show off the model's figure and keep the admirer captivated without exposing what's underneath. Known as the 'art of teasing', a burlesque dancer or model never 'shows all'.
Pin-up clothing was originally less revealing and will often involve full circle, dirndl or tight pencil/wiggle skirts or dresses, swimsuits, military uniforms, fishnet stockings, tight shorts, and equally tight jumpers/sweaters. More revealing pinup shots involved bras, suspender belts and girdles, which is predominantly how pin-up shots are taken today. As previously mentioned, pin-up is about telling a story and the outfits are essentially a prop that do just that. There is no nudity, rather just an arrangement of clothing aimed to tantalize the admirer.
Makeup and Hair
Makeup for burlesque is very dramatic with long false eyelashes and lips that are made to look plumper and painted with intense, vibrant colour. They will use a strong blusher and dark smokey eye shadow to add colour to the cheeks and eyes, dark dramatically shaped eyebrows and a black eye-liner to give the models that domineering cat-eye look.
Both burlesque and pin-up hairstyles are often very similar although burlesque hair tends to be more modern. Hairstyles typically involve loose curls, coloured hair, and half up half down styles. Think of Dita Von Tease whose image has become iconic in the world of burlesque.
Makeup for pin-up is a toned-down version of burlesque. Both share some similarities such as long eyelashes, however pin-up uses less colour, particularly around the cheeks and eyes. A light matte foundation is used for the cheeks and eye shadow is more likely to match the models' skin colour. (You will notice that this appears far more natural than seen in burlesque).
In terms of lipstick, a matte red is a must and eyebrows must be well defined while appearing more natural. Hairstyles will be of that period and typically include finger waves, the pin-up bandana look, rockabilly Rosie, victory rolls, beehive, retro roll up-dos, and the bombshell. Think of Marilyn Monroe, Bettie Page, and Bernie Dexter whose appearances are classics in the world of pin-up.
---
Originally burlesque was more of a performance art and pin-up girls were used for photographs but these days the line between burlesque and pin-up has become 'blurred' with many people failing to see much difference in the two styles.