In the 1950s, glamour was what women wanted most following the austerity of the 1940s. They saw the big screen stars and pinup girls that had curves, nipped waists and high pointed breasts and style icons such as Marilyn Monroe, Audrey Hepburn & Grace Kelly and wanted to imitate the look.  Under those full circle dresses or Dirndl skirts 1950's housewives wore petticoats, corsets, roll-on girdles or suspender belts teamed with nylon stockings on a daily basis – it was the norm for the time, despite the fact that fabrics used were not as comfortable to wear as those of today's retro inspired designs.
The image of the perfect housewife who kept her house spotless, had the old man's dinner ready as soon as he walked through the door and raised the children with very little help from him – while still always managing to look fashionable and beautiful – is a well-known stereotype from the 1950s.    Housework and shopping were not as easy back then either, many households did not have labour saving devices such as washing machines and hoovers – according to the Daily Mail,  'In 1951 the average housewife burned well in excess of 1,000 calories a day, mainly because housework was much more strenuous'.   You would also be required to visit a number of different small shops such as the greengrocer, butcher, fishmonger, bakers, ect. to get all the ingredients required for meals.    My mother went to the local parade of shops on a daily basis so everything was fresh, she knew the shopkeepers by name and always had a chat whilst I stood outside hanging onto my brothers pram – which was perfectly acceptable and normal at that time.
Of course, not all women of the era wanted nothing more than to be great housewives, but most were brought up to believe that getting a husband, looking after him well and having children was what they should aspire to.  They were also encouraged to look the part when their husband came home, ensuring they had 'bathed,  put on perfume and dress in smart clean clothes (complete with a clean frilly apron), ready to spend a cosy and romantic evening with him.
As a small child growing up in the late 50's I remember my mother being one of these accomplished housewives, dressed and immaculate before I was woken in the morning, cleaning (never without a pair of Marigolds), shopping, managing me & my brother without getting a hair out of place and presenting my father with his dinner exactly 10 minutes after arriving home from work.
The 1950's was an era when people dressed up just to have dinner in their own home (which of course was impeccable at all times),  women were more feminine, looked immaculate and were treated like ladies and men were protective, the breadwinners and looked for a wife who would devote herself to his happiness.  Has anyone seen the film 'PleasantVille' where a brother and sister are drawn into a TV show set in the 1950's?  This film depicts the innocence of family life in a small town back in the era which slowly changes as wives become  independent and children rebellious.  It really is one of my favourites.
Rules for 1950's Wives
Don't ask him questions about his actions or question his judgement of integrity. Remember, he is the master of the house and as such will always exercise his will with fairness and truthfulness. You have no right to question him.
Refresh your appearance, apply fresh perfume, touch up your lipstick and pinch your cheeks. Greet him with a warm smile and listen to him speak, his topics of conversation are always more important than yours.
Let him sit back and offer to take off his shoes. Offer him a drink and speak in low soothing tones – after all, his comfort will provide you with immense personal satisfaction
Don't complain if he's late for dinner, or doesn't come home at all, this is minor compared to the hard day he may have had at work.
In his 1951 book, Sex Satisfaction and Happy Marriage, Reverend Alfred Henry Tyrer has more to add to that. Do not ask for things. This is called "nagging":
'I verily believe that the happiness of homes is destroyed more frequently by the habit of nagging than by any other one. A man may stand that sort of thing (nagging) for a long time, but the chances are against his standing it permanently. If he needs peace to make life bearable, he will have to look for it elsewhere than in his own house. And it is quite likely that he will look.'
A social service meeting, an afternoon tea, a matinee, a whatnot, is no excuse for there being no dinner ready when a husband comes home from a hard day's work.
That the underwear should be spotlessly clean goes without saying, but every woman should wear the best quality underwear that she can afford. And the color should be preferably pink. And lace and ruffles, I am sorry to say, add to the attractiveness of underwear, and are liked by the average man.
A good housewife always knows her place.
Although my mother was a great housewife and practiced all the above 'rules', my father still ran off with his secretary in the 70's leaving her completely lost and without 'the purpose' in her life.  She'd never handled the household bills, mortgage or other financials, she hadn't worked since her late teens and a year later had a nervous breakdown due to her inability to cope alone.  Being 'A good housewife who always knows her place' didn't get her very far in the end.  I wonder how other women of the time who were bought up to think a husband, home and kids were the be-all and end-all of their existence coped when a marriage broke down.
Although I would have loved to be a teenager in the 50's, I wouldn't swap my life for my mothers for anything.  I love not having to rely on a man for anything, I like to wear comfortable trackies indoors (although I love to wear vintage style lingerie on nights out) and had I been been born in a time where housework, shopping, cleaning and practically being a slave to my husband was my life's work I would probably have ended up in a mental institution.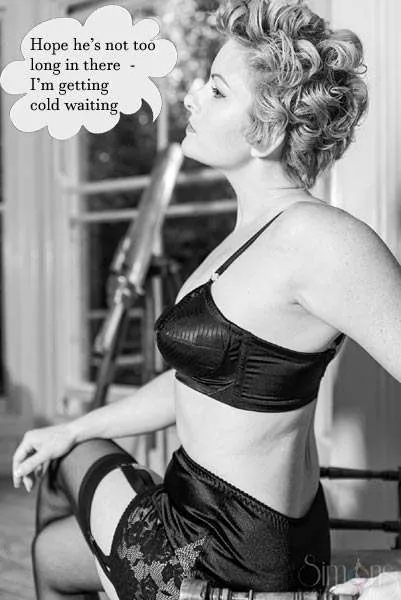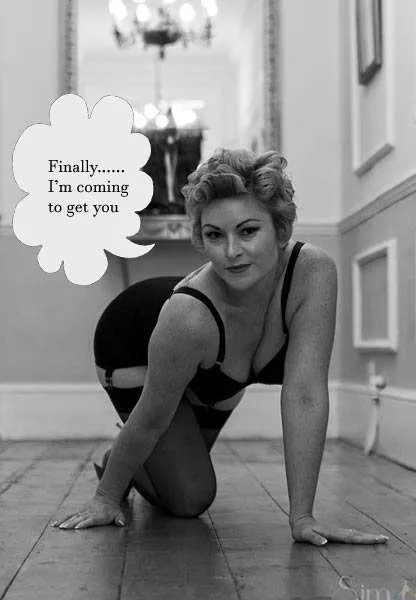 Lingerie by Swanky Pins and Photographed on @LauraJDrayconmodel by @SimonsPhotography